I have a rude awaking today. It is Sunday and my bank is calling me to verify a charge on my debit card. It was for a large amount through a paypal account. Someone was using my debit card number in a paypal account to make purchases. I was lucky that my bank caught all this before it went through. Everything has been cancelled now. I just wish people wouldn't be mean and do things like this. This had happened to my sister a while back with her credit card. She was lucky also as her bank caught it before they went through. I hope they are able to trace who did this and get them.
Anyways, I am at the Mudhouse and a back door is open when we are having negative wind chills which is making it FREEZING in here!!! They are closing early today so they can have there annual Christmas party. I wish we could close the hospital to have a Christmas party with everyone! That will never happen! :-)
I took my furbabies to see santa at Petsmart this afternoon. It isn't easy to get 3 cats and 1 puppy loaded up and into the pet store! I did it! I got two pictures done this year. One with the cats and one with my pup. I would love to have them all together but didn't think that would work out very well. I saved santa from getting smacked by a cat!
Phoebe enjoyed santa! She instantly gave santa lots of puppy kisses! It took her a while to get calmed down to finally get the pic we got. Then she was finally sitting on santa's lap when they were printing the picture I choose!
After her picture, I took her to the grooming department and had her nails trimmed. I really didn't think she would let them but was going to try. The last time she had her nails trimmed, she acted up quite badly! I was surprised that when I got back to the grooming department after paying for the nail trim, she was done! Her nails are so much better! I need to get me the pedipaw system to learn to do this myself to help save money.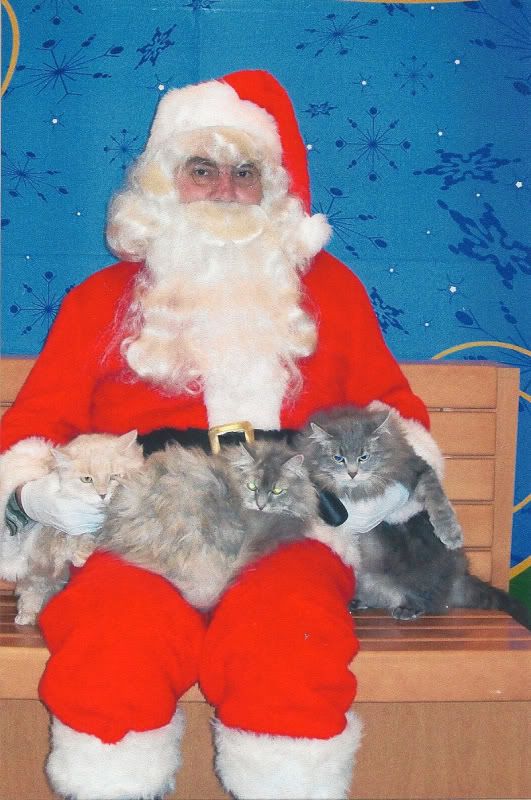 The cats weren't to thrilled about this experience. Chloe is on santa's lap and was just being calm. Pandora (the blonde kitty) was doing pretty good but could tell she wasn't to sure about this. Felix is always the one to act up which he did good but was making these low meow's to let us know he wasn't happy! He kept slipping out of santa's arm and I would have to reposition him. We finally got a pic with all of them looking! That was a task!