This time next week I will be done with school! I will only have my pinning and graduation to finish. I can handle that! I still have lots to do before then!! One announcement I need to make is about my History class. I
HAD
to have it completed before April 30th to graduate and I did it!!! It was a little rough doing a normal 16 week class in one month but I am proud to say I did it!!! I even made an 88%! Rock on!!! :-)
I have been a little nervous about my Capstone class. We have 3 huge papers to do which I have two done and only one more to do. When I turned in my first paper, I didn't feel as if I did it right. I was at school today and asking about getting announcements for our pinning ceremony and my instructor for Capstone happened to come to the desk. Since I had her in my presence I asked her some questions on the next paper. She was quite helpful and was glad to put a face with my name! Since it is an online class, we don't get to do that all the time. I just mentioned the first paper and that I struggled putting everything together. She looked at my paper on her computer and read some of the comments she wrote and told me that I did good. She didn't tell me my score but I feel better after her reading to me what she did. I left school today feeling better about the papers I have written. I am so ready for the stress of school to be over!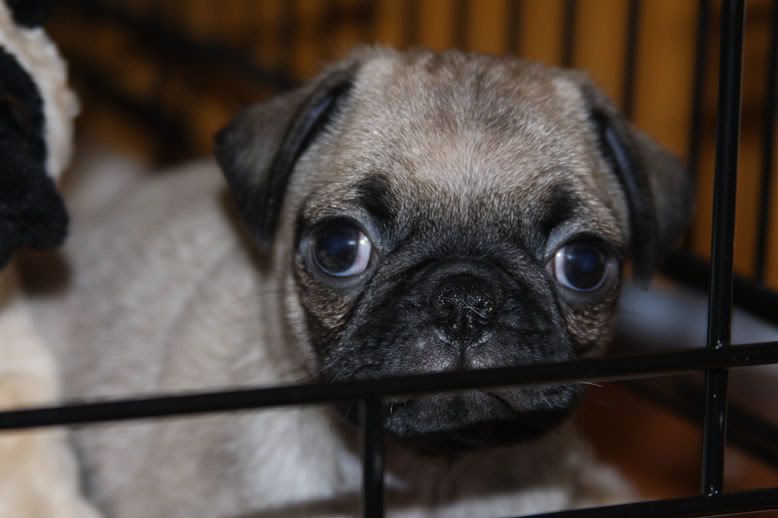 Ohhhhh, I almost forgot to talk about my newest addition, Phoebe! She is just a doll! The crate training is going okay. I can actually put her in her crate without her crying now. I have learned that as long has she has her play time, she doesn't mind going into the crate for a nap. The house training is going to take a while! I can't wait till I have more time to do more reading on house training.
Phoebe really likes the cats but the feeling isn't mutual! When she sees the cats, she gets in her pouncing position and just wags her little tail!! Then she chases them through the house! Of course, Chloe doesn't tolerate this and hisses and smackes. Phoebe doesn't understand that this means to get away! I have to keep an eye on her when she is out of her crate so she doesn't get injured.