I have had quite the experience since my last post! While I was at work last Friday, my power went out. I was afraid that the huge sweet gum tree in my front yard was going to be on my house when I got home. My Dad told me a few months ago that the notches are hollow and that it might not hold up in a storm. That tree is still up and it didn't look very bad when I got home the next morning. I went into the kitchen and opened up the mini blinds and got quite the shock! One of my other huge trees had split down the middle and fell sideways (thank goodness!) and barely missed my neighbors house! This tree is half in my yard and half in my neighbors!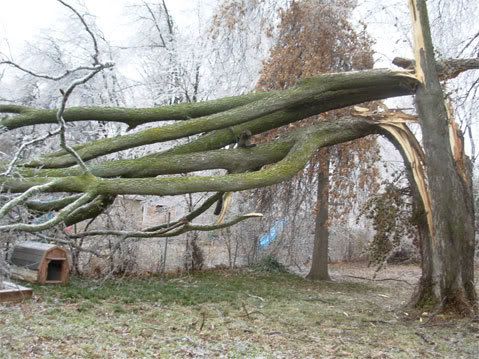 It was 55 degrees in my home Satuday morning and I called my parents and they still had power. They told me that I could come over and stay with them. I told my Mom that I was bringing my cats and that didn't go over well. :-( I decided just to go to bed and get some sleep. I woke up that afternoon with this loud noise outside and I thought it was a big truck. It turned out that is was a generator outside my window that my neighbor had. It was now 52 degrees in my house and any body part that wasn't under the covers was frozen! I also have a waterbed which it was loosing heat and wasn't as warm as cozy as it normally is. I called my Mom back and decided to stay with them and I did leave the cats at my house. I just made sure they had plenty food and water and a clean litter box.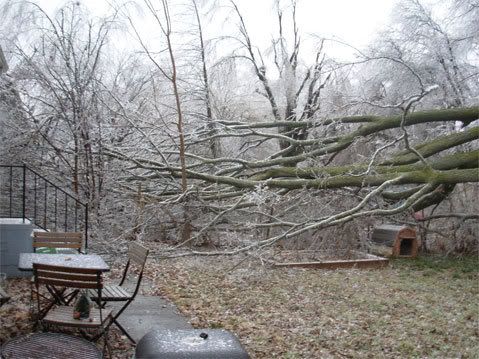 I got to my parents house and my youngest niece (she is 9) thought this was great that everyone was spending the night! It was nice to be with family and I got to spend fun time with my nieces. Jasmine and I shared a bed and she is a wild sleeper! I would get hit with an elbow or her hand and didn't sleep very well. When she got up, I got some sleep except she kept coming in and telling me to get up as she was bored.
I finally did get up and went to my house just to see how things were and to check on the cats. I got to the intersection and saw that several limbs from the tree in the front yard had fallen and they are the size of small trees! But at this time, nothing had hit the house. Pandora and Felix was excited to see me but Chloe was mad and wouldn't let me near her. It was 46 degrees in my house that morning. My neighbor came over to tell me some things regarding my huge tree. He started parking in the yard as he was afraid of a limb falling on his van. I don't blame his for doing that either! He talked to a guy from CU that was doing something with my tree and was told that they were going to get try to get the power on in our neighborhood in the next hour. I finished taking care of the cats and getting a few more things and went back to my parents.
My sister, nieces and I all decided to go see a movie. We went and saw "The Night of the Museum". It was a good movie! Before leaving for the movie I had called my house and the answering machine picked up so my power was back on! WOOHOO!!!!! I didn't return home till about 7pm that night. I knew it was going to take awhile to get my house warmed back up.
When I returned that evening, my phone wasn't working (which means no internet!!) and my cable tv wasn't working. I was bored! Since my bed by this time was freezing cold, I slept on my futon in the living room and watched Season 1 of Will & Grace! I am finally sleeping in my waterbed again! Of course, more tree limbs had fallen and this time hit my house. I still have one tree limb that is standing up resting on my house. My gutters are damaged but that is all the damage I have seen. I am glad that I decided to park my car in the garage as another tree limb fell after I got home in my driveway where my care would have been! My neighbor is smart to not park in the driveway!
The next day I needed to move this tree limb that was the size of a small tree. Phew!!! That wasn't easy and it was frozen to the ground! I poured hot water on it and attempted to move it. I didn't get it over very far at all. One of my neighbors saw me and came over and moved it for me! I hadn't meet these neighbors before as they just moved into the neighborhood a couple of months ago. It was nice to meet my new neighbors even though it was under frigid conditions! :-) My front yard is so full of tree limbs you can't walk through it.
I now need to get rid of all this debris in my yard. My Dad said he would help me and what he can't do I have someone that my grandma has used before that I am going to call. I am going to post some pics of the aftermaths of the ice storm! I hope everyone is safe and warm!