I don't understand it. We have been having nice warm weather - warm enough that my flowers started to come up in my flowerbed. The last two days it has been freezing! My flowers are now going to die. That disappoints me. My layout I did for the CJ is of my favorite flower which is the iris.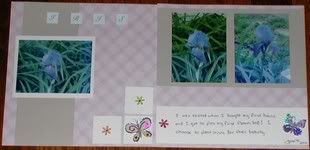 I started logging what I eat after midnight last night. I had a salad at work last night and I am going to have to figure out how to make it not count for soo many meats in this ADA diet. I used up 5 meats in my salad and only allowed 6! I am sure the more I follow it I will get used to it. I have to weigh in by Feb. 11 for the Partners for Pounds. I hope that my team remembers.
I had myself stressed out before work last night trying to get homework done that was due by midnight! I ended up having to finish it at work so I brought my laptop. I made sure that I had EVERYTHING done so no one could say anything to me! I was able to get it done and emailed by 2200! Phew!!!! That was close!
Anyone else having trouble posting pics from blogger? I always use the add image icon and the last two times I have blogged, I can't get it to work. I finally uploaded from my photobucket account to get it to work today!
I worked all night and need to get some shut eye!