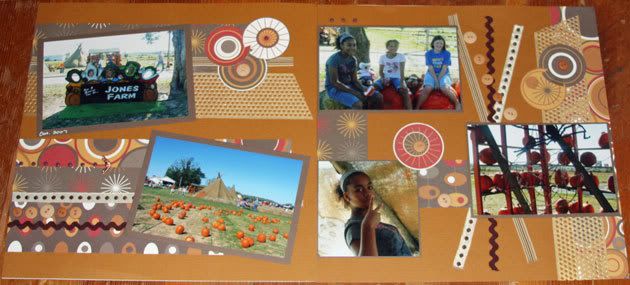 My bad news that I got this morning has had me not be as motivated today to get my homework done. I am doing my best to get it done little by little. I did get the research done for my intervention paper and also finished typing up my summary of the Learning with Lilly online class I did for clinical hours. I am hoping to get my paper started tonight and maybe work on the other online class about public health nursing for clinical hours. Then all that will be left is writing up my presentation in power point. What a week! I am just glad that I am on vacation.
I have been listening to the big hair bands of the 80's the last few days. Yesterday, the song that was playing in the Mudhouse has increased that! I kept finding more songs on Napster that I remember from high school. I wish I could find my USB cord that goes to my mp3 player so I could add new songs!
I added a picture of the 2 page LO that I got done at Camp Scrap last Friday. It is a kit that I got from
Scrapjammies
.
Back to getting the rest of my community health assignments done! Felix thinks he has to be sitting on the desk when I am on the computer. It is cute but I need to spread all my notes out! :-)